Our History
Downtown Pet Hospital first opened its doors in March 2005. This pet hospital is built on the location of the first veterinary clinic in Orlando, FL which was established in 1937. The practice, originally opened by Dr. W.M. Lynn in 1926 out of his home, was continued by his nephew Dr. D. Lynn at its present location. Initially, Dr. Lynn serviced both small and large animals, with horses and cows being brought up to his door! Please come by our clinic to see this progression in pictures!
Dr. J. Califf and Dr. E. High purchased this practice/building from Dr. Lynn and it was completely renovated in the early 2000s. Dr. Christine McCully joined the practice in 2005, and helped grow Downtown Pet Hospital to what it is today, culminating with purchasing the entire practice in May 2019. We have hired many wonderful veterinarians over the years, and have an incredible team of 4 veterinarians and support staff at this time!
Our Vet Hospital
Downtown Pet Hospital in Orlando, FL boasts 5 examination rooms, two Veterinary Surgical Suites, 2 Dental Suites, a full In-House Laboratory, Laser Surgery, a Companion Therapy Laser, a brand new full body DR Digital Radiography, a new Dental Machine and DR Digital Dental Radiography, an Ultrasound, Digital Cytology, and a well stocked pharmacy.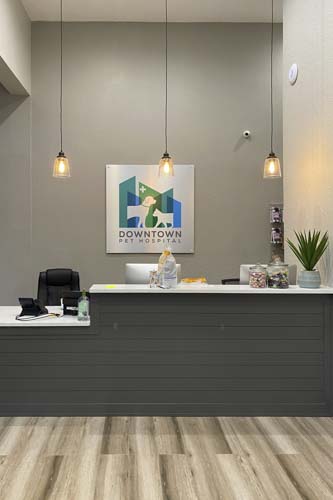 We have a new functional treatment area, where we can monitor hospitalized, veterinary intensive care, and post-operative patients, as well as performing needed treatments. Surgeries & treatments offered include Dental Prophylaxis, Spaying & Neutering, Laser Declawing, Mass Removals, Fluid therapy, as well as other soft tissue surgeries.
Our CO2 Surgical Laser enables more efficient and less painful surgeries! In Downtown Pet Hospital we also provide the newest standards of therapy regarding pain medication before and after surgical procedures. Finally, our In-House Veterinary Laboratory and Radiology capabilities enable rapid diagnosis of illness when your pet is not feeling well.
We also have a new Class IV Therapy Light Laser, which is the latest veterinary healthcare technology in Orlando, FL for your pet. This is an FDA cleared, deep penetrating light laser for the relief of pain. It is helpful for the following conditions as well as many more: arthritis, hip dysplasia, skin conditions, and wound healing.
Our Veterinary Pharmacy
Our pharmacy in Orlando, FL is fully stocked, and contains a wide range of antibiotics, anti-inflammatory & pain medications, shampoo & topical therapies, ear & eye medications, skin & allergy medications, flea medications, heartworm preventatives, as well as Prescription diets. We also offer an online pharmacy, called Vetsource, to provide you with medications and/or food to be delivered directly to your home.
We are dedicated to utilizing the highest standard of veterinary technology in Orlando, FL. If you have any questions or concerns about how laser therapy can benefit your pet, please contact us today.